Meet Get on the Bus, United PDX's Partner organization, who is bringing the wonderful game of soccer to students at title 1 schools in hopes of creating a more equitable community, here in Oregon, and across the country. This giving season coincides with soccer's biggest event, the World Cup. What better way to celebrate than by creating access to the future leaders of the game and our communities? We ponder how many players representing their respective countries this year started kicking the ball around with neighborhood friends and had the same drive as the children we aim to provide opportunity.
As we celebrate the successes of global unity and good sportsmanship this season, we are reminded why we partnered with the Get on the Bus program. Every child deserves their own world cup moment and to reap the benefits of this great game beyond the pitch. You may have heard that the World Cup is coming to the United States in 2026 and GOTB has a goal to reach 10,000 new participants by World Cup 2026! We hope Oregon can continue to expand the program for years to come. Just this year, GOTB has been able to serve 168 children across the nation.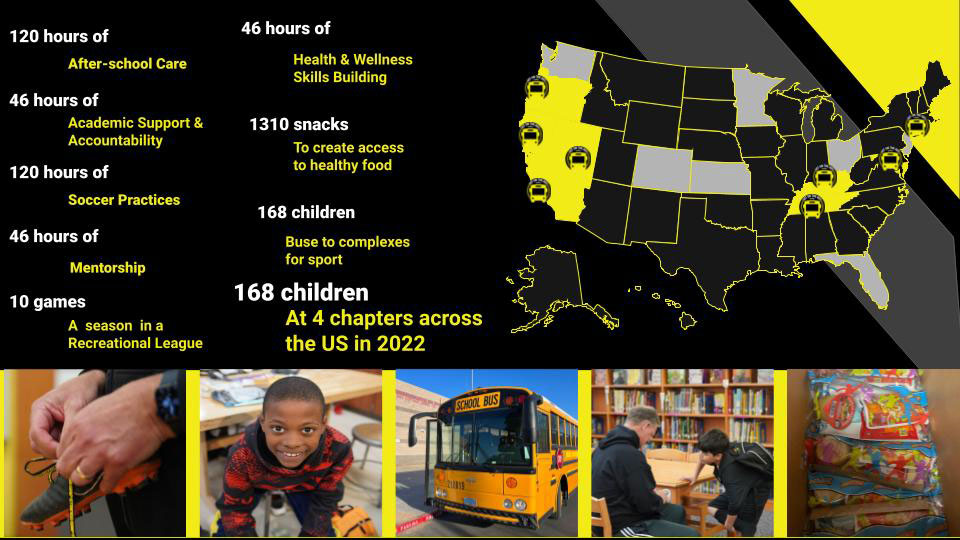 The first layer of challenges the program addresses involves:
access to mentorship
healthy food
after-school care
support and academic accountability
The second layer of challenges the program addresses:
access to consistent familial structures
health opportunity inequities
equitable community support for dual or single, working parents
long-term health habit development and positive health outcomes.

Get on the Bus is a stand-alone 501c3 headquartered in the state of Maryland and operating in chapters across the country. We are changing lives one participant at a time. With such a lofty goal of 10,000 participants by World Cup 2026 we are aggressively seeking funding opportunities. With your help we can reach our goal! Please donate today.
$500 covers all costs for a player for a full season
$750 supports all snack costs for a GOTB team for a full season
$2500 supports all busing costs for a GOTB team for a full season
$5000 covers all costs for a GOTB team for a full season
$10,000 supports an entire school!
Get On the Bus makes a difference and can change the course of a child's life because of the commitment from schools, coaches, clubs, teammates, and donors like you. Consider a gift now so that it can be used to fund this opportunity for more children in 2023.
A key element of the GOTB program is the creation of equity. The high costs of soccer in the US created great inequities while upon further examination it became apparent many families would require help to bring their child to an extracurricular, even if free. As such, the program seeks to address two layers of community inequities.